With the COVID-19 vaccine available for almost everyone, the spotlight is on a few key groups of women: pregnant ladies, breastfeeding mums and ladies trying to get pregnant. The question on everyone's mind is can they get vaccinated too?
Pregnant ladies will be delighted to hear that as of 31st of May, the Multi-Ministry Taskforce in Singapore announced that the categories of women mentioned earlier are now eligible to receive the COVID-19 vaccination. In this article, Dr Lim Min Yu shares why pregnant ladies, breastfeeding mums and even ladies trying to get pregnant should get the COVID-19 vaccine. He also debunks common misconceptions about the vaccine and addresses some concerns ladies might have.
Why Should I Get Vaccinated If I'm Pregnant?
The COVID-19 vaccine protects you (and your baby) against severe COVID-19 infection. Ladies who are pregnant are at a greater chance of falling severely ill from COVID-19 compared to ladies of the same age who are not pregnant. This means that there is a greater risk of having to be admitted to the intensive care unit and perhaps the need for additional support like mechanical ventilation.
The vaccine would also help to protect your baby because if you have COVID-19 and you are pregnant, your baby might need to be delivered earlier and this means your baby will have an increased risk of having to be admitted to a neonatal intensive care unit.
Babies of mothers who have been vaccinated have also been found to have antibodies against COVID-19 in their blood which means that mums actually passed some of the antibodies to them while they were pregnant.
When In Pregnancy Should I Get Vaccinated?
It is safe to be vaccinated at any time during pregnancy. Some ladies might choose to wait until after the first trimester because they may have concerns about any potential developmental problems.
Will the COVID-19 Vaccine Interfere With Other Vaccines During Pregnancy?
During pregnancy, your fertility specialist in Singapore would recommend that you are vaccinated against flu (also commonly referred to as influenza) as well as whooping cough (otherwise known as pertussis). These vaccines are typically administered during pregnancy. Dr Lim recommends getting the COVID-19 vaccine and the other vaccines at an interval of at least 14 days rather than having them all at the same time. He also advises ladies to always check with their gynaes if they are unsure.
Is It Safe to Get the COVID-19 Vaccine If I'm Still Breastfeeding?
The COVID-19 vaccine has also been shown to be safe for breastfeeding ladies and there have been studies which indicate antibodies being detected in breast milk. This is an additional way your baby can receive protection from COVID-19.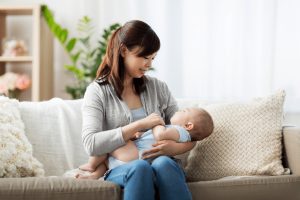 Which Vaccine is Safer?
Both the Pfizer and Moderna vaccines are suitable for pregnant and breastfeeding ladies. These are the two vaccines that have been authorised by the HSA in Singapore.
Can I Get the COVID-19 Vaccine If I'm Trying For a Baby?
Having COVID-19 vaccination does not impair you and your partner's fertility in any way and therefore it is also suitable for ladies who are planning to conceive to be vaccinated.
Common FAQs About the COVID-19 Vaccine
There are still a lot of misconceptions and myths floating around on the Internet which Dr Lim addresses below. When in doubt, always check with your doctor!
Dr Lim's Advice for all Ladies
Even after you have been vaccinated, it is important to still stay safe by all the same measures that we have been practising for the past year including social distancing, good hand hygiene and wearing a mask when you are out and about.
All ladies should get vaccinated. This is also an individual choice, especially if you are pregnant, and you should speak to your Obstetrician and Gynaecologist before you make a decision. They would also check if you have any of the reasons why you can't get vaccinated, for example, if you are known to have severe allergic reactions. In the meantime, please stay safe and keep well!