Fibroids are a very common gynaecological condition. About 20% to 40% of women will develop fibroids in their lifetime. What else should you know about them as a woman?
What are Fibroids?
Fibroids or uterine fibroids are smooth muscle tissue growths of the uterus
It can also be referred to as a myoma, which is a slow growing benign tumour
There is a less than 1% chance of this tumour developing into a cancerous growth
Fibroids can grow in various parts of the uterus, including the cervix and broad ligaments
Fibroids can either occur singly or in multiples within the uterus
What are the Different Types of Fibroids?
Intramural fibroid: Found in the muscle of the uterus
Submucosal fibroid: Found in the endometrium of the uterus
Subserosal fibroid: Found on the surface of the uterus

What Causes Fibroids?
The exact cause of fibroids is unknown. However, certain risk factors have been observed to increase the occurrence of these growths.
Genetics or family history
There is a higher chance of a woman developing fibroids if her mother or sister has fibroids.
Ethnicity
There are certain ethnic groups that have an increased risk of developing fibroids, in particular, the Africans.
Fibroids usually grow during the reproductive age of a woman, when there are increased levels of estrogen and progesterone. When a woman reaches menopause and has low hormonal levels, the fibroids usually shrink. If fibroids are seen to increase in size after menopause, it should be investigated for any possibility of a malignant or cancerous fibroid, also known as a Leiomyosarcoma.
Could I have Fibroids?
The symptoms of fibroids are related to its size, whether it is single or multiple, and its location. For example, when the fibroids are small and/or present in the superficial  layer of the uterus, you will usually not experience any symptoms.
Women with submucosal fibroids usually suffer from heavy menstruation, which may require them to change sanitary pads every hour. They could also be passing out large pieces of blood clots or have prolonged menstruation.
Other fibroids like subserosal fibroids typically do not cause any symptoms unless they become very big, in which case you might experience bloatedness and observe an increase in the size of your abdomen. (That's not a tummy!)
If these large fibroids press on the bladder, you might be urinating more frequently or have a constant urge to urinate.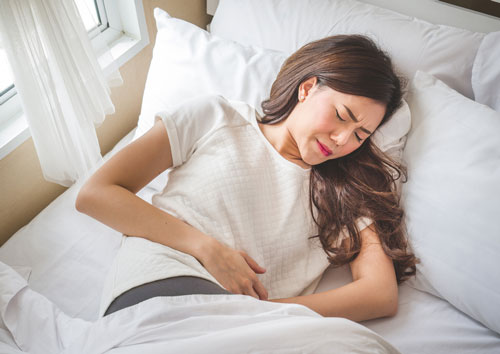 Can Fibroids Affect My Chances of Pregnancy?
Fibroids typically do not cause infertility unless they are found to be obstructing the fallopian tubes, in which case, the sperm is prevented from meeting the egg to facilitate fertilization.
Fibroids found in the endometrium may affect the implantation of the embryo, reducing the chances of pregnancy. There could also be a higher chance of a miscarriage.
Some intramural fibroids near the womb lining could also affect uterine contractility and embryo transport.
Experiencing symptoms or suspect you may have fibroids?
Consult a Gynaecologist Today