On 25 May, Dr Watt from The Obstetrics & Gynaecology Centre was invited to speak at the "Pregnancy, Labour and Me" seminar organised by Cordlife.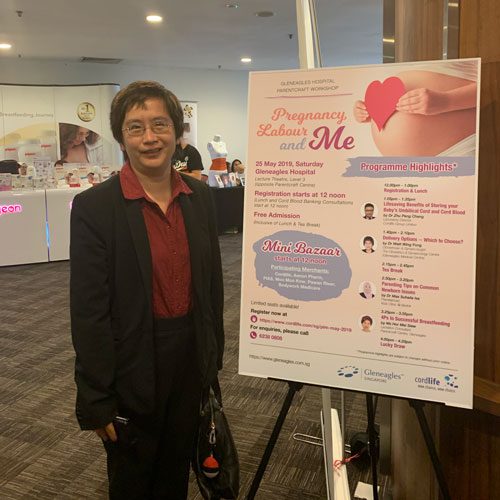 Dr Watt shared with over 50 couples about the pros and cons of having a natural delivery vs a Caesarian-section. For ladies who missed the session, here are some key highlights of her talk:
Vaginal Delivery
This is the most common way to deliver a baby if there are no complications in the pregnancy.
Advantages

Disadvantages

Natural delivery so ladies might find the process more satisfying
Less pain post-delivery
Faster recovery therefore shorter stay in the hospital
Safer for mothers as this avoids the risks of major surgery
Breastfeeding can begin earlier
Less risk of breathing problems for the baby
Better immune system and lower risks of allergies for the baby

Labour may occur at any time and the duration of labour varies
Fetal distress
Possibility of requiring an assisted delivery or even a C-section
Labour pain but there are pain relief options available
Trauma to the tissues around the birth canal such as tears to the vagina, rectum/anal canal, urinary tract
Damage to the pelvic floor muscles
Risk of heavy bleeding (postpartum haemorrhage)
Retained placenta/placenta tissue and risk of prolapse
Infection in the uterus if prolonged labour
Urinary and bowel incontinence
Assisted Vaginal Delivery
This is only performed when there is a need to deliver the baby quickly or when the mother is exhausted from prolonged labour. To attempt an assisted delivery, the following criteria must be met- the cervix must be fully dilated, the baby's head must be low enough and the mother must still be able to push. It is important to note that assisted delivery does not mean forcefully pulling out the baby!
Advantages

Disadvantages

Baby can be delivered more rapidly than a C-section which is important in cases of fetal distress
Avoids the risks of major surgery

Forceps marks, chignon ("cone head"), bruising, abrasions
Higher risks of trauma to the birth canal and pelvic floor
Risk of fetal injury, but serious injuries are uncommon
Caesarian-section
Commonly referred to as "C-section", it is a major surgery done to deliver the baby through incisions made in a mother's abdomen and uterus. It is generally performed if the mother specifically requests for one or if the doctor feels there is a risk with the other methods of delivery.
Advantages

Disadvantages

Can plan delivery time/date so there will be less disruption
Less damage to pelvic floor
Lower risk of urinary/bowel incontinence
Lower risk of prolapse
Lower risk of fetal distress
Lower risk of birth trauma

Longer recovery and therefore longer hospital stay
More expensive
Higher risk for mother since C-section is a major surgery
Risk of wound infection and blood clots – potentially life-threatening if blood clot moves
Risk of placenta problems increases with each subsequent C-section
Respiratory distress due to "lung immaturity"
Higher risk of asthma/allergies for the baby
In uncomplicated pregnancies, your doctor will always recommend a vaginal delivery. If you prefer a C-section, the doctor will respect your choice. It is important to note that there will be certain circumstances where vaginal delivery is not recommended as it may be associated with greater risks compared to a C-section.
Dr Watt's Place of Practice