For ladies/couples planning for a baby, you might want to consider a pre-pregnancy check as part of your preparation. Dr Claudia Chi from Astra Women's Specialists (Paragon) shares more about what a pre-pregnancy check is and answers common questions from ladies below.
What is a Pre-Pregnancy Check?
A pre-pregnancy check is done by an O&G specialist before a couple embarks on their pregnancy journey. It mainly looks at the woman's health status and provides couples with a good head start when trying to get pregnant, thereby increasing your chances of having a healthy pregnancy.
What Happens During the Pre-Pregnancy Check?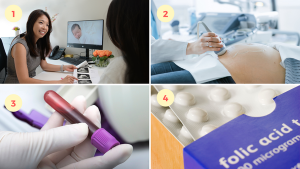 1. Consultation with Gynae
During a pre-pregnancy check, your gynae will start off with a consultation to understand your medical history and potentially that of your husband.
This helps to highlight any potential factors that may impact your pregnancy, and helps guide your gynae to plan your pregnancy preparation.
2. Physical Examination & Pelvic Ultrasound
Next, your gynae will conduct a physical examination and a pelvic ultrasound to look at your uterus and ovaries to make sure everything is healthy. If any issues are spotted, treatment can be done earlier to avoid delaying your pregnancy plans.
3. Blood Tests
A series of blood tests will then be done to test for any potentially infectious diseases and disorders that can impact your pregnancy. This includes immunity against Chickenpox and Rubella, as well as genetic conditions such as thalassemia.
This allows your gynae to assess underlying conditions and recommend necessary actions such as vaccines before getting pregnant.
4. Pregnancy Preparation Tips
Lastly, depending on your medical history, physical examination and blood test results, your gynae will tailor some tips for you on how to improve your chances of having a healthy pregnancy.
You will also be started on folic acid to reduce the risk of birth defects in the spine and brain of the baby.
Common Questions on Pre-pregnancy Checks
1. Does my husband need to come along?
It would be ideal for husbands to join their wives during their pre-pregnancy check as it allows the specialist to screen for certain risk factors or medical conditions in the husband that can also affect the pregnancy. However, if timing is an issue, ladies can always come in for their assessment first.
2. I already have a child. Is a pre-pregnancy check still needed for future pregnancies?
Yes, a pre-pregnancy check is still recommended as it factors in any risks due to your previous pregnancy.
So for ladies who are preparing for your pregnancy, it is always ideal to do a pre-pregnancy check to give yourself a good head start to a healthy pregnancy. Read up more about other pregnancy preparation tips here!
Here's a sweet deal for all our readers:
Clearblue is giving away a digital ovulation kit 1's (worth $7.10) for the first 100 who sign-up here: http://bit.ly/prepregnancy_clearblue_smgwh.